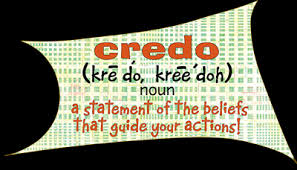 I describe myself as a serial entrepreneur, having established over 25 companies and company divisions and scores of products.  I've succeeded and I've failed.  Along the way, I've relied upon inspiration from many sources and am truly grateful for all of the assistance that I've received from so many wonderful people.  One of my favorite inspirational pieces is from Dean Alfange, a legal commentator and politician.   This poem holds a prominent position in my offices.  As I, once again, reread it this morning, I felt that it might provide a boost for those of my readers who are working hard to fight the good fight; to practice optometry as they see fit, independent of outside forces that desire to control your destiny.  Perhaps this is a credo for private practice optometry?
My Creed
by Dean Alfange (1952) 
  It is my right to be uncommon – If I can. I seek opportunity – not security. I want to take the calculated risk; to dream and to build, to fail and to succeed. I refuse to barter incentive for a dole. I prefer the challenges of life to the guaranteed existence; the thrill of fulfillment to the stale calm of utopia. I will not trade freedom for beneficence nor my dignity for a handout. I will never cower before any master Nor bend to any threat. It is my heritage to stand erect, proud and unafraid; To think and act for myself, enjoy the benefit of my creations and to face the world boldly and say, "this I have done." All this is what it means to be an American (insert: Private Practice Optometrist).