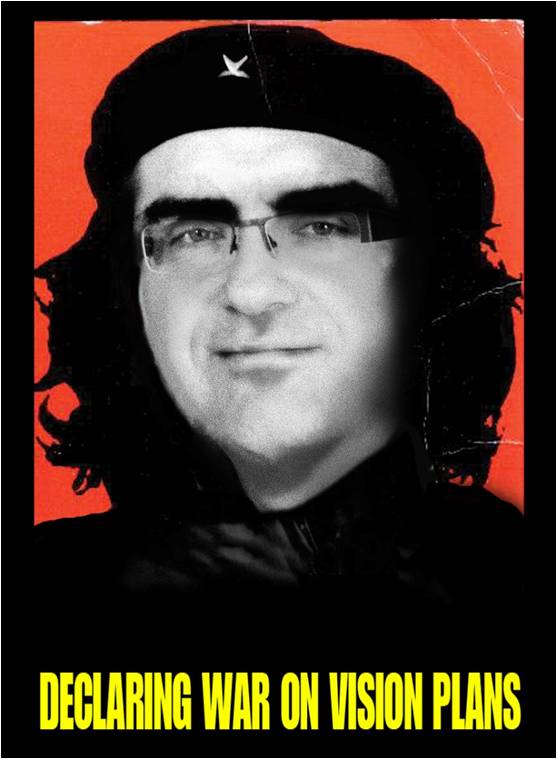 Over the past week, VSP and the AOA have taken their differences over inclusion in Obamacare out of the conference room and into to the boxing ring.  The public action appears to have started when former VSP Chairman, Daniel Mannen, wrote in VSP's newsletter describing how VSP is optometry's salvation…to paraphrase, "without VSP and Vision Plans…you'd be nutin."
AOA President (and Cleinman Performance Network' Alumna) Dori Carlson struck back with a letter to members on the issue:
In addition, Dr. Carlson recorded a video message expressing the AOA's position on the matter.
The AOA is spot on and deserving of support.  But, in my opinion, there's more to this.
For the past 40 years, I have been a student of the eyecare industry.  For much of my tenure in this wonderful business, I have been a vocal advocate for private practice optometry.  For those of you who have read my blog over the past several years, it's likely no surprise that last year, before my clients, I declared "war" on vision plans.  The question is "why?"
First, let me repeat a comment that I've made in the past.  VSP's business model is pure genius.  How can you fault an organization that, overtly or covertly, successfully convinced +/-28,000 optometrists that they can't live without them; that their inclusion in VSP (and other vision plans) is their key to success; that patients won't come to them otherwise.  Then, armed with the resultant massive provider network, they've successfully convinced employers of over 50 million of our nation's citizens that they should include scheduled vision plans in their benefit packages.   Oh, and the result has been hundreds of millions in profits for VSP.
Yes, pure genius!
Unfortunately, as I've consistently expressed, Vision Plans, like other forms of wholesale discounting (BOGOS), have destroyed our industry's "brand."   Further, the existence of these plans and their fear based promotion to optometry has done little to grow our industry.  Indeed, were it not for the existance of these unnecessary discount programs, there would be no fight as to where vision care belongs in the new healthcare environment.
At Cleinman Performance Partners, we study gobs and gobs of data submitted by our clients.  As the world's leading business development consultancy for larger optometry practices, we maintain the largest database of optometry performance data on the planet.  We've been doing so for over twenty years.  What does our data tell us?
In a nutshell, it tells us that practices that focus their attention on building the very best local brand possible succeed magnificently without vision plans.  It's that simple.  Why?  The truth is that private optometry has largely abdicated its marketing to the likes of VSP.  Yes, VSP puts butts in seats.  But patients delivered by discounting, like customers delivered by discounting, have a hard time bridging the value quotient when that value quotient isn't properly communicated.  All they know is "discount."  As a result, most practice leaders have simply not invested in what's necessary to effectively communicate the value quotient of their practice nor have they separated their practice from the competitive pack.  The average optometrist sees the unit volume delivered by vision plans as a panacea.  A deeper business understanding clearly proves that vision plans have questionable economic impact on the very providers upon whom they depend.  While VSP beats their drum about all that they do for private optometry, it's clear that they seek but one thing…profits to line their pockets.
So, my message for this Thanksgiving is that private optometry should be thankful for the AOA and thankful that the truth about vision plans is finally emerging.