For release: Immediately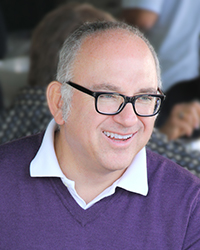 ONEONTA, NY — Cleinman Performance Partners CEO and Founder Alan Cleinman will take his high-energy talks on the eye care to the U.K. in July for the 10th Annual Independents Day event.
Cleinman — a leader in U.S. eye care for almost 40 years and "father" of the buying group segment of the industry — will deliver the keynote address on the event's theme, "Differentiate to Thrive: Survival in the Age of Killer Competition," on Monday, July 7, at the Hilton Birmingham Metropole Hotel.
Cleinman brings a wealth of knowledge and experience to Independents Day as a founder of Co-Optics of America (the first national optometric buying group), Cleinman Performance Partners and more than 20 other enterprises, as well as a presenter and blogger enjoyed by thousands annually. He has been at the forefront of all levels of the vision care industry, from manufacturing to retailing, frames to lenses, publishing to managed-service care.
"Bringing sound, proven solutions to independent optometry practices not only in North America but also in the U.K. and beyond offers opportunities to thrive in the touch economic times in which we live and work," Cleinman says. "By sharing a strong set of ideas we can increase our chances for success."
Since 2005, iDay has focused on commercial awareness, business development, and how to building and maintain a successful independent practice in the United Kingdom.
About Cleinman Performance Partners, Inc.
Founded in 1989, Cleinman Performance Partners, Inc., provides business solutions to independent optometry practices and the select vendors who serve them. Our mission it to help our clients recognize and realize all of their possibilities. In 2000, the company launched its core client development program, Cleinman Performance Network, a business development membership group for North America's leading optometry practices.
###