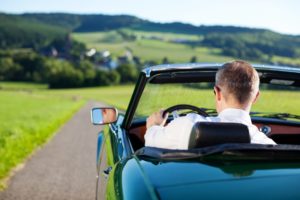 Step back for a moment. Take a deep breath. Now ask yourself two important questions.
Where am I? Where am I going?
If you're like the majority, you've likely never even asked yourself these questions. Like most, if you're not fooling yourself, you're simply on the road of life. And your daily activities are largely reactionary in nature. You respond to your patients, your team, your family. You work hard to keep everyone happy. But are you?
Most rarely reflect on these tough questions.
Earlier this month I went on my annual "walk-about." This is my annual exercise of exploration. I use this exercise to gain a bit of perspective; to clear my mind; and to reflect on my two critical questions. It's during this annual sojourn that I consider my role in my firm and what I'd like to happen in the near future. And I long ago discovered that the answers to these questions can only evolve from the de-cluttering process that is accomplished with my "walk-about."
The day dawned bright and warm. I threw a few days of clothing in a bag and jumped in my convertible. I have no destination in mind…just a general direction. In this case, I was going to head towards the Northeast…perhaps Quebec? I reprogrammed my GPS to avoid highways and set out towards the east. My commitment to myself is: a) drive only secondary roads and; b) no destination can be considered before I experience the next. In other words, I don't think of where I'll end up but simply plan my next stop. In this case, as I started down the highway, I considered where I'd like to go. As I passed a local horse farm, I set my GPS for Saratoga, NY and the famous Saratoga Race Track. I'd never been there and wanted to experience "the August Place to be."
Saratoga is a beautiful city steeped in history. And the Saratoga Race Track is a destination for both the gentry and the truck driver during it's one-month run every August. I remember landing in Albany, NY (the nearest major airport to Saratoga) many years ago and viewing a 747 parked on the tarmac. I was told it was owned by a sheik there for the races. Saratoga attracts all kinds. And having never been, I was curious. Remember that word.
I'll not bore you with the details of my visit, but my hour stop-over for lunch and to watch a single race opened my mind to possibilities. What a fun day one could have at the track, I said to myself.
As I jumped back in my car, I considered my next stop. "The drive through Vermont is beautiful" I said to no-one. So, I entered Keene, NH in my GPS and set out for an afternoon drive. I know Keene as it's the home of one of my great clients for whom I'd recently handled a transition. Why not stop in and say "hi?" Next stop.
Well, to make a long story short, my three-day trip took me from Saratoga, NY; to Keene, Lake Winnipesaukee and the White Mountains of New Hampshire; to Old Orchard Beach, Maine and the Kittery Outlet mall…and finally home. Along the way, I had some great food, met some interesting people and cleared my mind. And because I don't plan the trip in advance, I also exercised my curiosity. Indeed, each of my stops were the result of being curious.
So why is all this important? Our world is changing at warp-speed. Gaining perspective is ever-more challenging. Daily you're under the gun to perform, strategize, consider, plan, resolve, design and invest; all those activities that comprise an owner's responsibility. My "walk-about" is my method of getting away from it all, with no other plan than to experience each moment and gain perspective; to flex my curiosity. I've no one with me to entertain or be entertained. I've no agenda other than to clear my mind of clutter. I've nowhere to be or even know where I'll end up. The solitude forces thought and helps me answer my two critical questions.
Where are you? Where are you going?